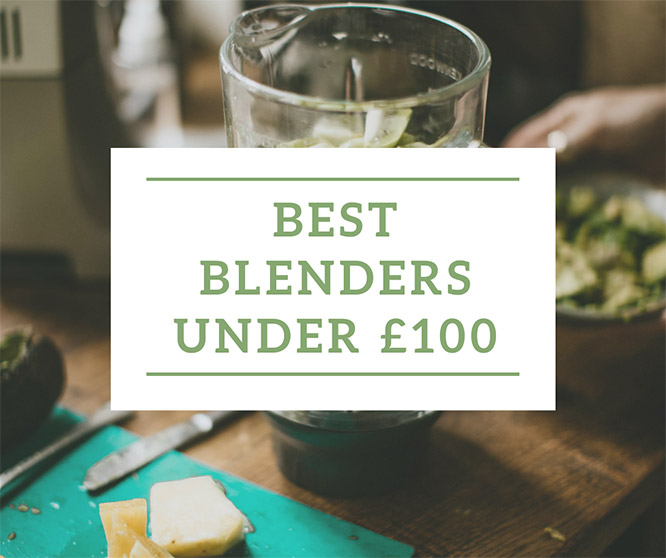 No smoothies, pureed vegetables, or any other mashed goods are possible without a good-quality, compact blender.
These versatile kitchen appliances can cost up to a whopping £500 but there's no need for stretching your budget to the limits, as there are powerful yet affordable blenders suitable for basically any smoothie magician out there.
We scrutinized dozens of blenders comparing their power, capacity, sturdiness, composition, and other crucial features to help you find the best blender under £100 in the UK, perfect for your home use.
Disclaimer: This post contains affiliate links which means I may get a small commission if you purchase a product after clicking on a link. This does not cost you anything. As an Amazon Associate I earn from qualifying purchases.
Best blenders under £100 – Comparison table
Buying the best blender under £100 – What to consider
Here are some of the must-have features to check on your new blender list.
Type: jug or bullet?
Firstly, you need to decide which type of blender will fit in your kitchen and serve the purpose. Based on their practicality and capacity, blenders are usually divided into the jug, full-size blenders and the nowadays popular version bullet blenders.
Being more practical for smoothies and single-serve portions, bullet blenders have become widely sold among fitness enthusiasts and those who enjoy blended on-the-go meals. Instead of the bulky jug, bullet blenders come with multiple cups of various sizes, usually with a lid or a cup holder to make it transportable. Furthermore, they are space-saving, extremely easy to use and assemble, as well as clean.
Jug blenders without doubt offer much more capacity, power and sturdiness, they are great for the whole family and a variety of food processing, such as crushing ice or other solid ingredients.
Purpose
Will you be using it for occasional smoothies or will it become the go-to appliance for various food processing ideas? Some blenders are made as an all-in-one appliance offering more than mere blending, which you can use to chop, grate, mix, mash, mince, and much more thanks to various blade attachments.
Speed options
Unlike jug blenders, bullet ones usually don't offer any speed options but rather work on the pulsing principle, allowing you to control the texture and consistency with the number of pulses you press.
High-end products, on the other hand, provide advanced speed options and even smart speed detection technology which is why it's important to understand your needs before opting for an affordable product.
Power
Including the blades and the material, power will mostly determine how well the food will be processed in your blender. For crushing ice and other hard ingredients, a power of 600 watts will do the trick, but for decent vegetable purees and creamy consistency, a good versatile 200-watt blender will do the trick. You can find affordable blenders with 1200 watt power, excellent for more challenging blending action.
Materials
While the price can sometimes dictate the quality, there are perfectly sturdy and versatile blenders that come under £100. Most bullet blenders come with a variety of hard plastic cups and blending containers, while jug blenders usually offer glass ones that are not portable.
The quality of the blades and the motor will dictate whether it is loud or works with a pleasant humming sound. No blender is completely quiet, yet the power and good-quality materials (stainless steel blades) usually determine the longevity of the blender as well as the sound.
Practicality
Some seemingly marginal features like dishwasher-safe materials or the assembly process may sound marginal, yet those are the things that differentiate a long-lasting blender from the replaceable ones.
Each manufacturer advertises their product specs, so make sure to look for models which are easy to clean and require no to few steps for assembly and use.
Best blenders under £100 – Reviews
Given their performance, positive reviews and excellent results, the chosen blenders on our list represent the optimal choice for every user who needs a strong yet affordable kitchen tool for various purposes. Check out our top picks:
NUTRiBULLET 600 Series – Best blender under £100 for smoothies
The classic 8-piece NUTRiBULLET has proved to be one of the best smoothie makers yet at a reasonable price.
The 600 w powerful motor offers enough strength and speed for crushing nuts, fruits, vegetables, seeds, ice, and more.
This set comes with a sleek power base, 1 tall (680 ml) and 1 short cup (511 ml), the extractor blade, a handled ring for using the cups as mugs, a portable lid, and a user manual with delicious recipes and ideas for blending.
The assembly is almost nonexistent since the only thing you need is a place for the base and a socket.
The cups are made of durable, easy-to-clean plastic which can just be rinsed under lukewarm water and you're good to go.
What makes this product so great for smoothies is the blade technology with 6 stainless steel blades placed under different angles thus enabling thorough crushing, blending and mixing, leaving your food blends without any lumps and left-out pieces.
The use is pretty straightforward and quick – after you have filled the desired cup with your favourite ingredients, screw the blade extractor on it, then place everything upside-down on the base and start pulsing. Mind that the blender was made for short and quick pulses and shouldn't be left on for more than a minute.
Another notable option from the NUTRiBULLET family is the slightly more expensive 900 W champagne blender, with more blending power (900 W) and cups with more capacity (680 ml and 909 ml) for the whole family to enjoy. You also get a flip-top lid for more comfortable and spill-free use on the go.
For those looking for cheaper options and more versatility in blending, the Magic Bullet series offers a less powerful motor (200 W) but 3 cups of various capacity, steamer and shake lids, comfort rings for drinking straight out of the blending cup.
Pros
Great blending power for smoothies
Crushes ice and nuts
Easy to clean
Different capacity cups
Great additional attachments
Cons
Not practical for larger quantities
Shouldn't be left on for more than one minute
Ninja Nutri Slim Blender and Smoothie Maker
This sleek and practical bullet blender turns healthy breakfasts and snacks into a fun process.
Like a true ninja, this nifty kitchen tool is slim and small yet powerful enough for any sorts of blending challenges like ice, nuts, and even seeds.
It features a 700 W motor, 4 stainless steel blades specifically placed for consistent and smooth blending action.
Ninja Nutri Slim Blender includes 2 slim PBA-free plastic cups (470 ml) that are dishwasher safe and easily turned into portable smoothie cups thanks to the sip and seal lids. A recipe book is also included in the price for new blending ideas.
The sensitive pulsing technology allows you to carefully control the amount of blending. Be careful not to use it longer than a minute as it might cause damage to the motor.
Buyers are delighted by the size of this compact blender, its practical use and easy cleaning make it a perfect almost unnoticeable kitchen tool for different spaces, even student dorms, and portable kitchens.
All in all, this is an affordable option for buyers who need something convenient and practical.
Pros
Small and compact (only 1.4 kg)
Portable and no assembly
Great blending power 700 W
Dishwasher safe
Detachable cups with portable lids
Cons
Not for large quantities ( only 480 ml cups)
Not so versatile in capacity compared to similar products
Tefal PerfectMix BL811D40 High-Speed Blender – Best glass blender under £100
If you're looking for more than smoothies and want extra blending delivery such as pureed vegetables, hot and cold beverages, homemade ice cream, etc. a glass jar blender like the Tefal PerfectMix is the right option for the entire family.
It features a powerful 1200 W motor that delivers 28000 rotations per minute. It can crush ice, shred meat, blend, mix, smooth out and mince ingredients into different textures and consistencies. The heat-resistant 2 l glass jar withstands high temperatures and can blend your vegetables straight from the pot.
This top-quality blender features 3 pre-set programs, including an ice-crushing and self-wash program.
The jar is also dishwasher safe and is easily detached from the stainless steel blades which you can also put in your dishwasher. The blade technology features 6 robust razor-sharp blades with smooth and jagged sides for a variety of blends, either super smooth, pureed, or even chunky.
This top-quality blender offers variable speed options including the hand-control pulse option.
The package also includes a handy spatula for easy handling and a precise measuring cup.
Pros
Durable and thermo-resistant jug
Large capacity 2 l
Pre-set programs
Variable speed options
Dishwasher safe
Cons
Heavy and not for smaller spaces (4.96 kg)
No portable parts
2L1450w High Power Table Top Blender
Lastly, we present another multi-purpose jug blender for any type of food processing and blending, amazing for family quantities and various meals.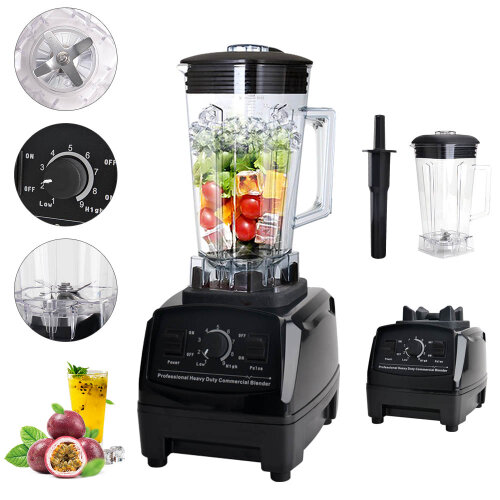 This highly affordable blender offers high-end quality for a reasonable price. Unlike glass jug options, the 2L1450w High Power Table Top Blender features a sturdy yet light 2l blending container which is portable and can be used as a regular drinking jug.
The blade technology consists of 8 sharp spikes that leave no texture and ingredient uncrushed and smoothed out.
The powerful 1450 W functions under 10 various speeds, great for velvety smooth liquids or pulps, purees, creamy or chunky fruit mixtures, whatever you need and want. To make sure everything is blended in smoothly, the product comes with a convenient stir bar and the instruction manual although most customers find the assembly easy and intuitive.
This blender is suitable for households that have enough counter space for storing it since it is not so convenient for moving around or travelling.
Buyers are amazed at the durability and versatility of this product and recommend it as an affordable option for those who need an advanced blending machine.
Pros
Powerful 1450 W motor
10 speed options
Portable jug
Crushes ice and hard ingredients
2l capacity
Cons
Not dishwasher safe
Too bulky and tall for smaller spaces or frequent portable use
Final verdict – What's the best blender under £100?
When buying a blender it's crucial to first consider its main purpose and the functions you would most use from it.
Bullet blenders are definitely more convenient, don't require hand stirring during blending as you can shake it and pulse out the stubborn parts under the blades. The containers are reusable as drinking cups and very easy to clean and store.
Jug blenders offer more speed options, versatile textures, ability to blend very hot or cold food and generally last longer, being heavy-duty products made of stronger materials and glass.
Depending on your preferences, all of the above-mentioned models can serve the purpose and are carefully chosen to cover all the necessary features of an optimal blending tool.
NUTRiBULLET models are the best choice if you're looking for a smoothie master. If you're a globe trotter with unstable cooking space, the Ninja Nutri Slim blender will be a great companion for quick and convenient food processing. Family kitchens and advanced cooks, on the other hand, will benefit best from jug blenders like the glass Tefal PerfectMix blender, or the powerful 2L1450w Table Top Blender.