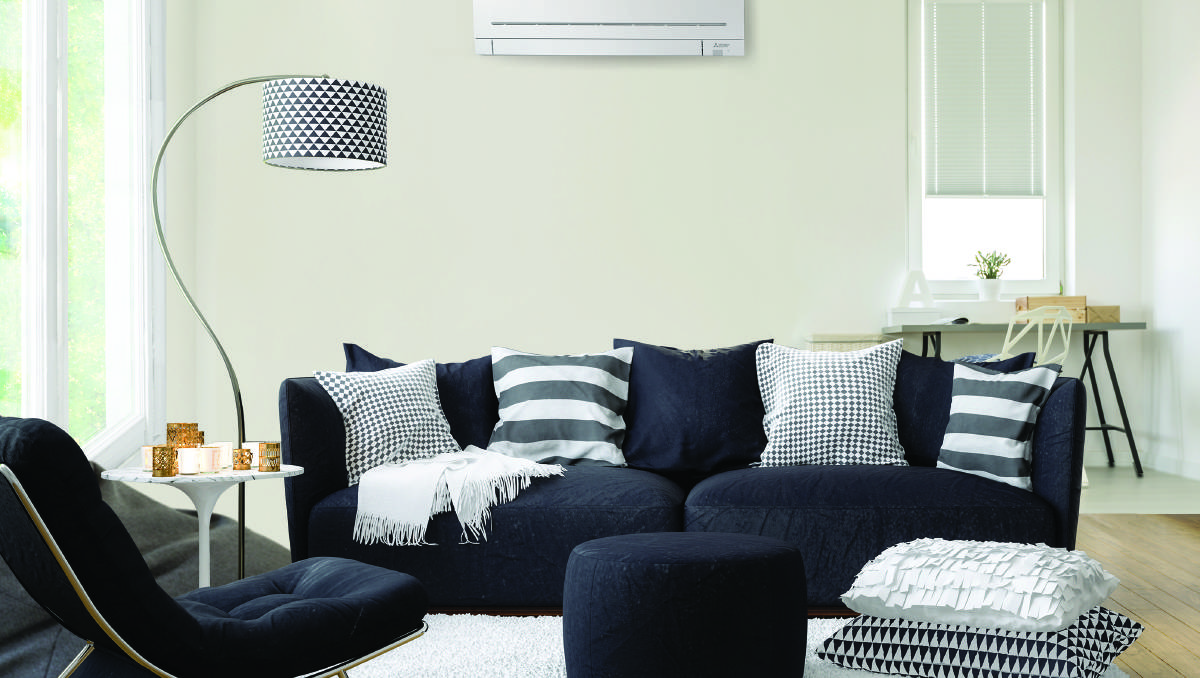 With the winter chill drastically impacting how comfortable we are, the time to learn (or be reminded) about how to best heat your home is now.
When it comes to home heating, the approach you take can not only have an impact on the temperature, but also your general safety.
In time for these cooler months, Mitsubishi Electric's national product manager, Atesh Mani, has crafted a checklist of safety tips to warm the house, with the welfare of your family and pets in mind.
It can be easy to assume you are aware of all the potential hazards in your home, but often there are covert hazards lying in wait. So what are they and how should you identify them?
Where heating is concerned, a hazard is any object within one metre of the heat source, especially those that are flammable – think textiles (couches, blankets, cushions etc.), some artwork, electronics, the list goes on.
For complete peace of mind, move all objects at least one metre away from your heating source. Further to this, it is recommended to never dry any clothing on or near your heater.
Check your heating source annually
While it would be great to assume all appliances are fail-safe, it's not always the most practical of assumptions to have.
A simple solution is to ensure your heating systems are thoroughly checked by an accredited professional at least once a year. Don't worry if this sounds difficult to remember, just consider it another one of your annual home maintenance tasks to complete.
Time to clean your filter
Air conditioning is most likely the safest form of heating your home. If you have a system installed, ask yourself when you last cleaned the filter.
Filters build up with dust over time, and if you've been blasting the cool air during summer you'll have some build up on there. This decreases efficiency and the air passing through won't be as fresh as it could be.
Delivering clean, fresh and healthy air is a priority for Mitsubishi Electric. Our most recent indoor unit, the MSZ-AS90VGD-A1 uses a built-in anti-allergy enzyme filter, which works to trap allergens such as mold and bacteria by using enzymes to decompose them. This is ideal for people who also suffer from allergies.
Read more: Check out how you can save with the latest deals on interiors, homewares and DIY products with discount codes from Australian Coupons.
Consider the type of heating you install
The most popular forms of heating in Australia are electric and gas. While gas heating may be cheaper to run in some cases, it can also leach the odourless, toxic gas and carbon monoxide.
Regular heater servicing reduces the risk of this, but an operational carbon monoxide detector is a necessary addition to any home.
Flued heating systems are those that expel air pollutants and vapour outside of the home, whereas unflued systems expel into the home.
In the case where you have an unflued gas heating system, make sure the room is well ventilated and the system is serviced regularly to avoid any build-up of gas.
Avoid using external gas heaters indoors
If it's getting chillier in your home without a heating system, the idea of using your outdoor heater to heat your room might fleetingly cross your mind.
However it should be noted that outdoor heaters do not need to pass the same stringent safety tests as your indoor heaters.
Because outdoor heating is used for well-ventilated areas (and you can't get more well ventilated than the great outdoors) external heaters are permitted to release higher levels of gas. It is recommended to never bring your external heater indoors.
Invest in a heater with wifi connectivity
With our lives growing busier by the minute, one could be forgiven for occasionally running out the door in odd socks, without lunch, and perhaps having forgotten to flick off the switch on your home heating system.
With a wifi-connected home heater, you can easily turn your heating off from wherever you are without needing to run back home, saving you time and money.