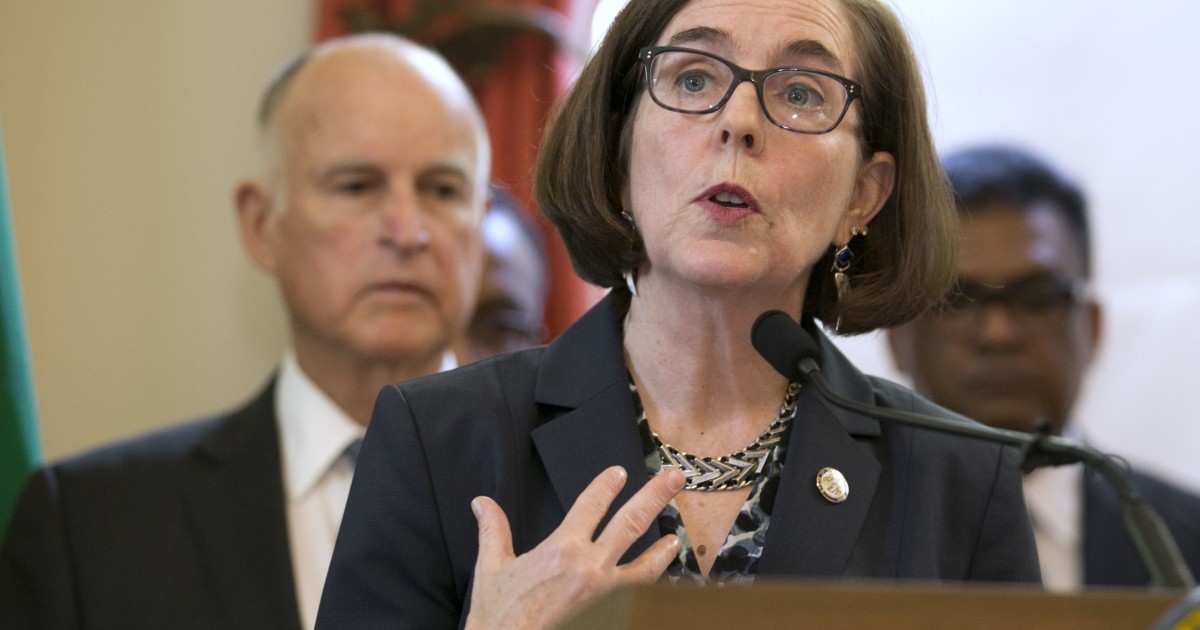 Oregon Gov. Kate Brown and New Mexico Gov. Michelle Lujan Grisham issued new stay-at-home orders for their states on Friday to curb rising coronavirus cases.
Brown called a two-week freeze to start Wednesday, forcing gyms, museums, and outdoor recreational facilities to close and restaurants to stop offering in-person dining. Social gatherings will also be limited to no more than six people. The freeze will start Nov. 18 and last until Dec. 2.
Meanwhile, Lujan Grisham reimposed an order for people to stay at home except for essential trips for food and water, emergency medical care, getting a flu shot, or obtaining a coronavirus test. The restrictions will be in effect from Nov. 16 through Nov. 30.
New Mexico is at the breaking point. We face a life-or-death situation, & we must & will act to preserve the lives of New Mexicans.

On Monday New Mexico will hit reset, re-enacting the most heightened level of statewide public health restrictions to slow the spread & save lives. pic.twitter.com/XvcHCK3hU3

— Michelle Lujan Grisham (@GovMLG) November 13, 2020
"Without the compliance and cooperation of New Mexicans statewide, we do not need to imagine the bleak public health calamity we will face – the images from El Paso the last few weeks, from New York City earlier this year, and from Europe at the outset of the pandemic will be our fate in New Mexico," Lujan Grisham said.
Oregon health officials report that daily case growth has more than doubled in the past month, bringing the total number of confirmed COVID-19 infections to more than 51,000. The state's test positivity rate has also been climbing steadily since late-October. Nearly 13% of all coronavirus tests conducted in Oregon came back positive over the past seven days.
New Mexico's coronavirus cases have doubled since the first week of October, with state health authorities reporting 1,487 new cases Thursday, a state record.
Virginia Gov. Ralph Northam also tightened coronavirus restrictions Friday, reducing the limit on gathering sizes from 250 people to 25 people, mandating masks for everyone over 5 years old, and instituting a curfew on the consumption of alcohol in bars for 10 p.m. People who choose to consume alcohol prior to 10 p.m. must be served in a restaurant and remain seated at tables 6 feet apart.
"While our cases may not be rising as rapidly as some states, I do not intend to wait until they are," Northam said. "We are acting now so that things do not get worse."
To date, nearly 10.7 million cases and more than 243,000 deaths due to COVID-19 have been confirmed in the U.S. Globally, more than 53 million cases and 1.3 million deaths have been confirmed.
New York City Mayor Bill de Blasio cautioned parents to prepare for possible school closures as soon as Monday amid rising COVID-19 cases. De Blasio announced earlier this week that if the test positivity rate in the city surpasses 3%, all in-person learning will have to shift to digital platforms, and school buildings will close. The seven-day rolling average has climbed to 2.83% after being less than 2% at the beginning of the month.
"People should get ready," de Blasio said Friday on WNYC-FM radio. "Parents should have a plan for the rest of the month of November. I think that is the safe way to think about it."
Detroit Public Schools announced Thursday that all in-person learning would be suspended starting Monday because of the city's rapidly increasing test positivity rate. Classes will move entirely online until Jan. 11.
On Tuesday, the Philadelphia school system announced that learning will remain entirely online until further notice, having originally scheduled to start a hybrid learning program on Nov. 17.
Meanwhile, France and England entered monthlong lockdowns this week but chose to keep schools open, a notable policy change from the countries' spring lockdowns.
More than 130 Secret Service officers are reportedly quarantining or isolating following President Trump's final blitz of campaign events. The Washington Post reported on Friday that about 10% of the agency's core security team was either infected with COVID-19 or exposed to the coronavirus, according to three people familiar with agency staffing. These officers are distinct from Secret Service agents. Officers in the service are in uniform as opposed to agents who are in plainclothes.
A member of President-elect Joe Biden's coronavirus task force is speaking out about the politicization of wearing masks.
In an interview with Science Magazine, Celine Gounder was asked how to get people to wear masks. She replied, "It's a challenging one because the issue has been so politicized. But in my mind, it's like politicizing toilet paper. It's a basic hygienic measure. It's not about your political party. And we need to somehow break through that."
Gounder, a New York University epidemiologist, also commented on how Trump's unwillingness to concede the election is affecting the work of the Biden task force.
"It's certainly not an ideal situation," she said.